Introduction
Material: HDPE
Average Wall Thickness: ≥5mm
Inner Filling: EPS
Counterweight: The counterweight can be filled with concrete according to the freeboard height and load requirements.
Customized: Yes. A variety of specifications, sizes and colors are available.
The material of the floating docks is HDPE, which is non-toxic, tasteless, odorless and milky white particles. It has the advantages of high strength, good toughness, strong rigidity, aging resistance, heat resistance, cold resistance, etc. It also has good resistance to environmental stress cracking, tear resistance, and resistance to acids, alkalis, and organic solvents.
Floating tank products have a variety of specifications and sizes to choose from. The tank body has the characteristics of high buoyancy, high strength, strong stability and wide application range. It is widely used in floating carrier for water projects such as floating docks, floating platforms, aquaculture, aquatic entertainment facilities, etc. According the requirements of the wharf or floating facilities on the water, it can be flexibly set the freeboard height and load requirements of the pontoon. And the counterweight can be deployed as needed. The counterweight is filled with concrete.
The floating docks are available in black, white, yellow, green, blue and other single colors. It uses rotomolding integrated molding process. The average wall thickness of the floating box is ≥5mm, filled with polystyrene (EPS) foam, and the brewing density ≥15KG/m³, water absorption ≤4%. EPS has high hardness and high density, the floating docks will not sink even if it is broken.
Application
Residential Docks: Overwater bungalow, lake cottage, beach house, etc.,
Industrial Docks: Construction, repair and maintenance of bridges, canals, harbors, etc.
Leisure Docks: Water beer house, outdoor water cafe, water landscaping lights, sunbathing verandas, Water performance stage, water trail, water play, aqua parks, etc.,
Platform: The landing dock, stand & referee stand, fishing platforms, etc.,
Military Applications: Emergency system, temporary bridge, life-saving platform for flood prevention and danger, etc.,
Floating Pools: Outdoor water swimming pool, sea bathing beach
Aquaculture fishery cage structure, outdoor lake fishing grounds, etc.
Canoeing, kayaking and rowing docks, Heliports
Features
Safety: There are patterns on the top surface of the modular floating system, which will not cause danger due to the smooth surface, debris and rusty nails on the wooden sidewalk. In addition, it has no sharp visitors and is stable enough to continue walking.
High Compression: The average compression load exceeds 350 kg per square meter.
Service Life: 15 years depending on different location conditions.
Versatility: Can be widely used in various fields.
Economy: Free maintenance and low maintenance.
Convenient & Simple Construction: Can be easily and quickly installed and disassembled.
Durability: Anti-ultraviolet, frost, sea water, corrosion, chemicals and oil.
Low and High Temperature Resistance: from - 30 ℃ to 80 ℃.
Variety/Discrimination: A connecting pin fixes the four modules together-allows any size and any configuration to be assembled on the water. It can be replaced and assembled to meet the requirements.
Recycling: HDPE material, 100% recyclable, environmentally friendly.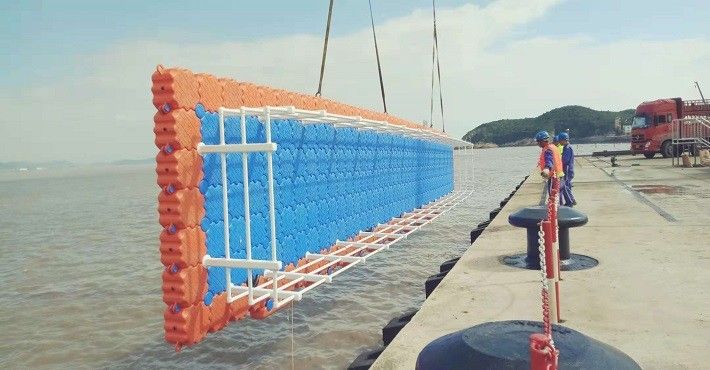 The Ability of The Single-layer HDPE Floating Docks to Withstand Wind and Waves
Normal Storms
The safe use range is within 2-4 levels of wind and waves on the water surface.
It can be used within 5-6 levels of wind and waves on the water, but safety protection must be strengthened to prevent tourists from slipping. 3.The level of wind and waves on the water surface is within the limit of 7-9 (it is not recommended for boats to berth and tourists to go up and down the pontoon).
Momentary Wind
The instantaneous wind power is within the range of 2-3 levels is safe use.
It can be used within 4-5 moments of wind, but safety protection must be strengthened.
The instantaneous wind power is within the limit of 6-8 levels (it is not recommended for boats to berth and tourists to go on and off the pontoon).