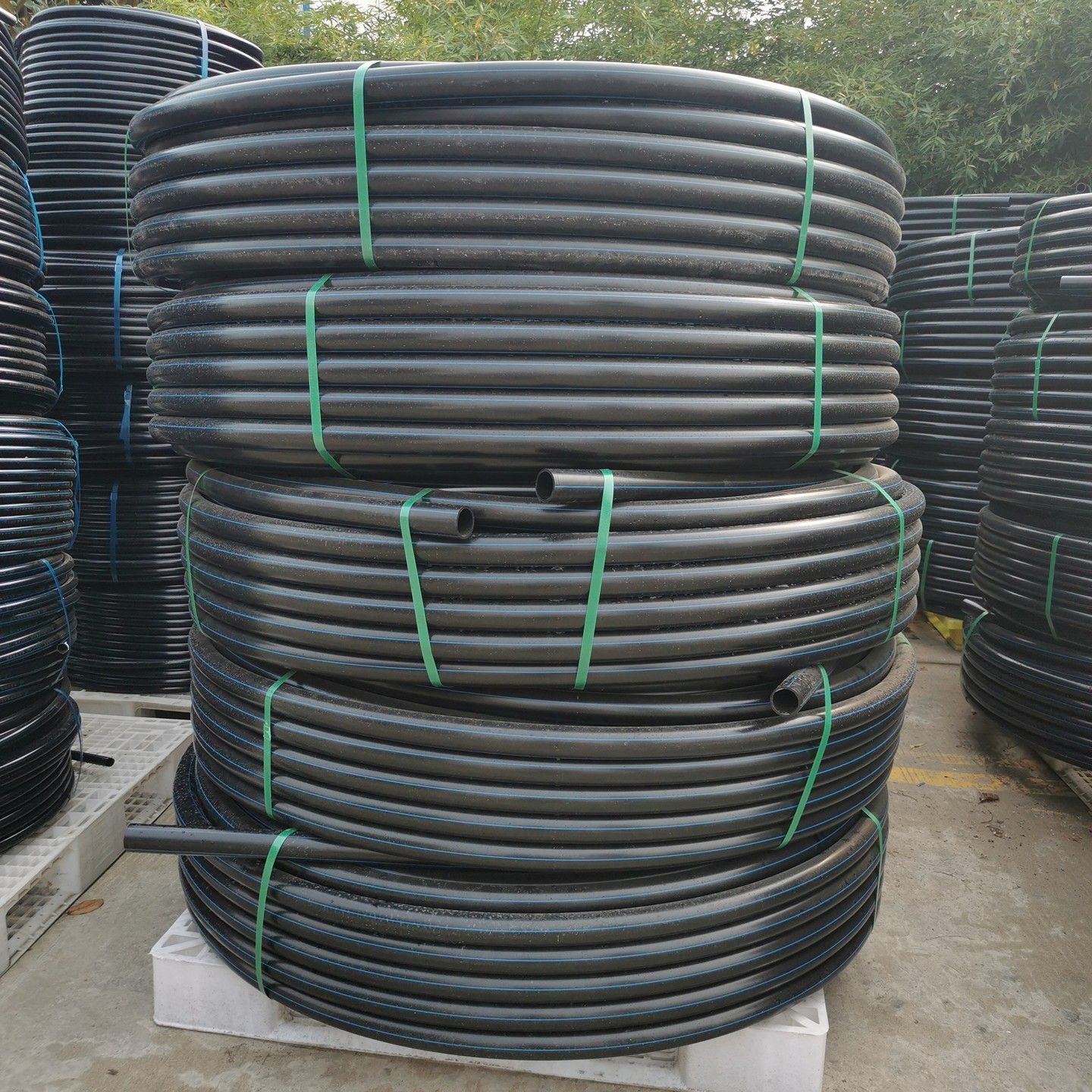 The extrusion material of PE pipe is polyethylene raw material what is made by petroleum refining. The extracted polyethylene raw material is non-toxic and green and environmental protection.
When the raw material of PE pipe come out,because the performance of the raw material is not so good, there is no big reaction in the market. However, with the continuous progress of science and technology, polyethylene raw materials are constantly improved and the performance is getting better and better.
PE pipe gradually replaces other traditional conventional plastic pipe and becomes the dominant position in the market. Next, we will tell you about the grade of PE pipe's raw materials.
When PE pipe just entered China market, there is no grade of PE water supply pipe special material, which makes it is difficult for domestic PE water supply pipe and gas pipe manufacturers to choose raw materials. And it brings a great potential to PE water supply pipe.
Therefore, the National Bureau of standards has made a lot of revisions in the new GB/T13663-2000 standard, which stipulates that different grades of water supply pipes PE80 and PE100 correspond to different pressure strength. And the tensile strength properties in the old standards are removed, the elongation at break (more than 350%) is increased. Exactly the basic toughness is strongly adjusted.
In the international, the raw materials of PE pipe are generally divided into 5 grades such as PE32, PE40, PE63, PE80 and PE100. The main materials used for PE gas pipe and PE water supply pipe are PE80 and PE100. Before PE pipe entered China market, the raw materials of grade PE63 were often used abroad, but they were gradually replaced by PE80 and PE100.
PE water supply pipe is called HDPE100 water supply pipe. The PE water supply pipe is used to transport tap water. Generally it needs pump to pump from underground to ground and to residents' homes. Because the PE water supply pipe needs to bear the pressure when pump is pumped, the water supply pipe is divided into five grades according to the pressure, which are 0.6MPa, 0.8MPa and 1.0MPa respectively ,1.25Mpa,1.6Mpa. They are subjected to 6 kg pressure, 8 kg pressure, 10 kg pressure, 12.5kg pressure and 16 kg pressure respectively. The higher the pump pump pressure, the higher the pressure level of PE water supply pipe is needed.
The Application of PE32, PE40, PE63, PE80 and PE100
PE 32

low pressure piping systems

PE 40

low pressure piping systems

PE 63

medium pressure piping systems
irrigation system
drinking water connections

PE 80

gas pipe for natural gas distribution network with pressure rate up to 4 bars
drinking water pipe with pressure rate up to 16 bar
sewers, outfall pipes, industrial pipes

PE 100

high demands piping applications
Note:
According to the standard ISO 4427--MRS
1 bar = 1x105 Pa (N/m2) = 0.1 N/mm2 = 14.5 psi (lbf/in2)
The Difference Between PE80 and PE100
PE80 and PE100 are the basic resins for the production of pressure-bearing plastic pipes. In particular PE100 is the only polyethylene grade in the ongoing high-pressure pipe grades. It can be widely used in pressure-bearing water pipes, gas pipes and various industrial pipes. PE100 has excellent melt fluidity, weather resistance and long-term stability. The pressure-bearing pipeline produced as a raw material can guarantee a 50 years service life under the conditions of 8.0MPa and 20°C.
PE80 (8.00~9.99Mpa) is a masterbatch with 80% antimony trioxide content on a polyethylene substrate. It can be mainly used in casting and film making at the same time. It is a granular, free-flowing, dust-free masterbatch, which is safer than traditional powders in the production process and is easy to control the dosage. It is also considered a general-purpose masterbatch, with granular free-flowing.
PE100 (10.00~11.19Mpa) is the number of grades obtained by rounding the minimum required strength (MRS) of polyethylene raw materials. According GB/T18252 to determine the hydrostatic strength σLPL of the material corresponding to the predicted probability of 97.5% at 20°C for 50 years. Extend the MRS according to the formula, and multiply the MRS by 10 to get the grade number of the material.
What is the Difference Between PE80 and PE100 Gas Pipelines?
The value of the parameter MRS in the nominal pressure formula of polyethylene pipes is different. MRS-the minimum required hydrostatic strength. For PE80 and PE100 polyethylene pipes, the value is respectively 8.0MPa and 10.0MPa. Under the same working pressure, the wall thickness of PE100 pipe is selected to be thinner. And the density of the two materials is very close.
Quality Requirements of HDPE PE80 and HDPE PE100 Water Supply Pipes
Generally speaking the quality requirements of HDPE PE80 and HDPE PE100 water supply pipes include appearance quality, specifications and tolerances, physical and mechanical properties.
Appearance Quality: The inner and outer wall surfaces of the HDPE pipe should be clean, smooth, no bubbles, obvious scratches, dents, impurities, uneven color and other defects are allowed.
Specifications and Tolerances , Physical and Mechanical Properties: For a certain specification of HDPE pipe, its outer diameter, inner diameter, wall thickness and out-of-roundness, hydrostatic strength, elongation, longitudinal shrinkage, etc. must comply with GB/T13663-2000 standard.
HDPE100 Features:
Corrosion resistance, no leakage, high toughness
Excellent resistance to slow crack growth (SCG) and rapid crack growth (RCP);
Low pipe wall friction coefficient, small flow resistance and strong conveying capacity
Cost reduction - excellent flexibility, coiling, joint reduction and construction
Convenient installation and construction because its' various non- excavation methods
50 years Long service life under rated temperature and pressure
Convenient transportation and handling - Light weight